As of today, many parents in India or across the globe still won't be able to recognize that their children are specially-abled.
But there are many positives as well, in a country like India and everywhere the discrimination level related to anyone's disabilities, gender, race, and different nationalities are getting decreased day by day in the education sector.
There's been an increased percentage of adoption of inclusive education strategies in recent times, which gives the opportunity to children with special needs to get more involved in the classroom.
In addition, inclusive education gives the opportunity for specially-abled students to feel involved like any other students in the class, personalized ways of teaching to them and they can create a bond with their peers as well.
According to firstcrayon.com, in India, almost 89% of children with Special needs are in elementary school.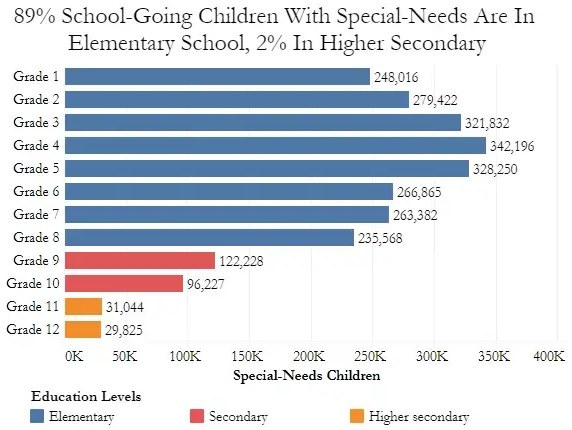 Source: https://blog.firstcrayon.com/the-essential-guide-to-special-needs-education-in-india-47769fc4d234
There's a huge demand for Teachers in preschool to meet the educational and developmental needs of children with disabilities. If you're an aspirant with special needs teachers this is the chance to become one, we recommend our Special Education Courses which will make you capable to deal with specially-abled kids with more patience and empathy.
Let's deep dive and get to know more about, Special education teacher's roles in dealing with children with special needs effectively.
Roles of Special education teachers in the classroom while using inclusive learning technique:
Identify special-abled students:
In most cases, neither parents nor teachers would be able to find the symptoms of children who are specially-abled or not.
As a teacher, it's your responsibility to identify specially able children and meet the educational and developmental needs of children with disabilities.
You need to figure out by observing or taking some help from parents to know about their social and emotional behavioural patterns, likings, non-likings, and their favourite peers in class.
After gathering all the information, teachers can curate their education plan in such a way that every student can understand and feel comfortable with it.
Modification in Curriculum:
As a SEN teacher, you must keep in mind children with special needs when you're designing the curriculum for the whole class. In addition, you must craft your way of learning according to the need of specially-abled children and you can share your ways of teaching with other general teachers as well for a better learning experience for children with special needs.
Note: Don't forget to observe especially abled children's likings, non-likings, strengths, weaknesses, and ways of learning after that only curate the ways of teaching lessons and craft curriculum.
Also try to add manipulatives, visual learning, and real-life examples during teaching for their better understanding.
Use of different approaches while teaching:
Nowadays the attention span of students especially towards learning lessons is very short whether in general classrooms or inclusive classrooms.
A teacher can use different methods of teaching rather than orthodox approaches such as using real-life examples while teaching, teaching with the help of manipulatives, visual learning, recordings, etc. this kind of method of teaching not only helps children with special needs but it will help other students as well.
Give tasks for learning in a group to children with special needs from time to time and encourage them to participate actively in group learning.
This will help them to learn the different approach to learning lessons and helps them to create a bond with other members of groups as well.
In addition, they will also gain lots of confidence which will ultimately help them academically and in life as well.
Make Parents comfortable:
Parents are in general concerned and protective towards their students. As a SEN Teacher, it's your responsibility to make them comfortable and make them believe that teachers are doing everything to meet the educational and developmental needs of children with disabilities not just in the classroom but in school as well.
You can keep them informed about their children's progress and behaviour in the classes, which gives them insurance that their children are in good hands.
Back your Specially abled students:
After Paediatrician, it's the SEN teacher who understands the difficulties which every child with special needs goes through. They need to make aware on the school to every member of faculties to be aware of their situations and practice inclusion in every campus activity.
Try to organize inclusion-focused professional and extra-curricular activities from time to time by discussing with other school members and school leaders.
Final Thoughts:
Every parent who has specially abled children has one thing in common, they just don't want their kids to be considered like any other kids.
As a SEN Teacher, it's your responsibility to implement the idea of inclusive education in school so that children with special needs can learn efficiently.
From inclusive learning, not just special abled children will get benefitted, but every other student will also like it. Because it involves a variety of interactive and easy-to-understand methods of lessons.
So, if you want to become a capable and well-equipped SEN Teacher, then we recommend our Special Education Courses which helps you to become a teacher who can meet the educational and developmental needs of children with disabilities.
Written By : Abhishek